Meraki MR16

Dual-Radio 802.11n Access Point
Meraki Product
Indoor Access Points
Meraki MR16 Dual-Radio 802.11n Access Point


*Please Note: Meraki Enterprise license purchase required for each AP.

MR16-HW
List Price: $649.00
Our Price: $584.00
Meraki MR16 5 Pack Bundle
*Please Note: Meraki Enterprise license purchase required for each AP.
- 5 x Dual-Radio 802.11n Access Point
*Get a FREE iPad 2 until 5/31/13! - Learn More
MR16-BDL-5PACK
Our Price: $3,245.00
Click here to jump to more pricing!

Overview:
High performance cloud-managed wireless LAN
The Meraki MR16 is an enterprise class, dual-concurrent 802.11n access point designed for high-density deployments in large offices, schools, hospitals, hotels and large retail stores. The MR16 features dual-concurrent, dual-band operation and advanced 802.11n technologies such as MIMO and beam forming, delivering the high throughput and reliable coverage required by the most demanding business applications like voice and video.
MR16 and the Meraki Cloud Controller: A Powerful Combo
The MR16 is managed through the Meraki Enterprise Cloud Controller, with an intuitive browser-based interface that lets you get up and running quickly without training or certifications. Since the MR16 is self-configuring and managed over the web, you can even deploy the MR16 at a remote location without on-site IT staff.
The MR16 is monitored 24x7 from the Meraki Enterprise Cloud Controller which delivers real-time alerts if your network encounters problems. Remote diagnostics tools enable real-time troubleshooting over the web, meaning multi-site, distributed networks can be managed remotely.
The MR16's firmware is always kept up to date from the cloud. New features, bug fixes, and enhancements are delivered seamlessly over the web, so you never have to manually download software updates or worry about missing security patches.
MR16 Highlights


Ideal use cases

General use wireless LANs
Mobility-intensive organizations

Hardware features

Dual-radio 802.11n, up to 600 Mbps
Gigabit Ethernet port
802.3af PoE compatible, AC Adapter available

Cloud management

Network-wide visibility and control
Self-provisioning for rapid deployment
Automatic reporting
Seamless firmware updates

Enterprise security

802.1X and native Active Directory integration
Intrusion detection and prevention (WIDS/WIPS)
Stateful Layer 3-7 firewall
Identity-based group policies
Built-in antivirus scan (NAC)

Guest access

1-click secure guest access
Guest isolation firewall
Customizable splash pages

RF optimization

Cloud based RF planning
Built in spectrum analysis
Dual-concurrent radios with band steering

Layer 7 traffic shaping

Classifies hundreds of applications
Create per-application bandwidth limits
Prioritize productivity apps
Restrict recreational traffic

Mesh

Self-configuring, self-optimizing mesh
High performance multi-radio routing protocols
Extends coverage to hard-to-wire areas
Self-heals after cable or switch failures

Device management

Create device-specific firewall rules
Deploy applications and updates
Troubleshoot issues with built-in RDP
Centrally Managed from the Cloud
Meraki's award-winning Cloud Controller provides powerful and intuitive centralized management, while eliminating the cost and complexity of traditional on-site wireless controllers. Meraki provides powerful and intuitive centralized management without the cost and complexity of traditional wireless controller hardware.
Seamlessly manage campus-wide WiFi deployments and distributed multi-site networks with zero-touch AP provisioning, network-wide visibility and control, cloud-based RF optimization, seamless firmware updates and more – without training or dedicated staff.
High Capacity 802.11n for Dense Environments
Meraki APs are built on enterprise-class 802.11n chipsets, with custom designed antennas, extra CPU and memory resources, and hardware accelerated encryption. This hardware platform, combined with performance features including band steering and voice and video optimization, provides consistent, reliable performance even in crowded auditoriums with over 100 users per access point.
Built-In Enterprise Security and Guest Access
Meraki provides out of the box security that meets the needs for the Fortune 500, yet is easily configured by an IT generalist. Built-in guest access provides Internet access while protecting your LAN from viruses, worms, and unauthorized access. Active Directory integration, network segregation, and firewall rules can be configured in minutes. Advanced features include:
Application-aware (Layer 7) stateful firewall
Identity-based group policies
Intrusion detection and prevention (WIDS/WIPS)
Built-in NAC with antivirus scanning
Two factor authentication
Control Applications, Users, and Devices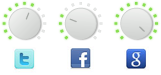 Meraki is the only wireless LAN to include layer 7 fingerprinting and application QoS. Identify hundreds of applications, from business apps to BitTorrent and YouTube. Prioritize critical apps like VoIP, and limit or block wasteful bandwidth consumption such as P2P file sharing. User fingerprinting with Google-like search allows administrators to easily identify and control individual users, iPads, Androids, and other devices.
Block Netflix, Accelerate VoIP and Secure the CEO's iPad
Meraki is designed for modern, mixed use networks that support mobile devices and web-based applications. Integrated Layer 7 device fingerprinting, traffic shaping, and application firewall services provide complete visibility and control of the devices, users, and applications on your network, while powerful yet easy to configure access policies maintain security and compliance.
Control Clients with Mobile Device Management and a Client Aware Firewall
Pushes policies and applications to the devices on your network, enforcing security best practices, installing updates, and troubleshooting client issues. Configure rich policies with a device-aware firewall, assigning bandwidth controls, VLANs, and firewall rules specifically to iPads, Androids, and other mobile clients. Meraki provides the tools for Bring Your Own Device (BYOD) networks and mobility-centric organizations.
Features:
Dual enterprise class 802.11n radios, up to 600 Mbit/sec
The MR16 features two powerful radios and advanced RF design for enhanced receive sensitivity. Combined with 802.11n technologies including 2x2 MIMO and transmit beamforming, the MR16 delivers up to 600 Mbit/sec throughput and up to 50% increased range compared to typical enterprise-class 802.11n access points, meaning fewer access points are required for a given deployment. In addition, dual-concurrent 802.11n radios and band steering technology allow MR16 to automatically serve legacy 802.11b/g clients with the 2.4 GHz radio and newer 802.11n clients to the 5 GHz band to provide maximum speed to all clients.
Control Applications, Users, and Devices

Meraki is the only wireless LAN to include Layer 7 fingerprinting and application QoS. Identify hundreds of applications, from business apps to BitTorrent and YouTube. Prioritize critical apps like VoIP, and limit or block wasteful bandwidth consumption such as P2P file sharing. Apply policies by device type, automatically assigning VLAN tags, traffic shaping rules, bandwidth limits, and firewall policies to iPads and other device types. And user fingerprinting with Google-like search allows administrators to easily identify and control individual users, iPads, Androids, and other devices.
Guest WiFi
Meraki offers secure, easy to manage guest access out-of-the-box – without extra appliances, licenses, or complex VLAN configurations. Meraki's built-in firewall and DHCP server provide a complete guest WiFi solution, enabling secure, Internet-only access that protects your LAN and other clients from virus or information leaks. Meraki also provides cloud-hosted, customizable splash pages, bandwidth limits, on-the-fly guest logins, and even content filtering, allowing you to customize your guest experience.
Enterprise Security
Meraki provides complete out-of-the-box enterprise class security. Segment wireless users, applications, and devices; secure your network from attacks; and enforce the right policies for each class of users. Meraki's built-in stateful policy firewall, 802.1X/RADIUS support, and native Active Directory integration deliver fine-grained access control, while Meraki's Guest Access Firewall provides secure, Internet-only guest WiFi in just one click. With built-in features like Network Access Control (NAC) and Wireless Intrusion Detection and Prevention (WIDS/WIPS), Meraki enables secure wireless environments without complex setup or systems integration. Meraki WLANs are fully HIPAA and PCI compliant.
High Capacity 802.11n
Meraki's 802.11n APs provide high capacity wireless in dense, demanding environments. Meraki APs are custom-designed for cloud management. Built with enhanced CPU and memory capabilities, Meraki APs deliver rich services including Layer 7 Application QoS and NAC at the network edge.
Teleworker VPN

Meraki's Teleworker VPN solution creates a secure IPsec tunnel from any Internet-connected Meraki wireless access point to your corporate network, providing secure remote access to IP PBX systems, file shares, and internal applications. Teleworker VPN is available on every Meraki 802.11n AP, at no extra cost. Remote APs connect securely and automatically to an easy-to-deploy VMWare-based virtual concentrator at HQ, while split-tunneling only routes internal traffic over the VPN, improving performance and saving bandwidth.
High Performance Mesh Routing
Mesh networking – the ability for APs not wired into the LAN to act as repeaters – is included in every Meraki AP. Mesh allows for two powerful use cases: extending coverage to hard to wire areas, and providing a self-healing network that is resilient to cable and switch failures. Meraki pioneered high performance mesh routing, with behind-the-scene technologies such as multi-radio routing and per-flow analysis that makes Meraki's mesh faster and more reliable.
Device Management
Meraki includes powerful device management tools to control the clients on your network. Centrally manage iOS devices, Windows PCs, and Macs. Set security policies for the iPads, iPhones, and iPods owned by your organization, and centrally manage the applications installed on them, pushing new apps and updates to any number of devices. Control Macs and PCs, tracking inventory, pushing software, and even troubleshooting with built-in remote desktop. Device management is fully integrated available at no additional cost.
Automatic cloud-based RF optimization with spectrum analysis
The MR16's sophisticated, automated RF optimization means that there is no need for the dedicated hardware and RF expertise typically required to tune a wireless network. An integrated spectrum analyzer monitors the airspace for neighboring WiFi devices as well as non- 802.11 interference – microwave ovens, Bluetooth headsets, etc. The Meraki Cloud Controller then automatically optimizes the MR16's channel selection, transmit power, and client connection settings, providing optimal performance even under challenging RF conditions.
Self-configuring, self-optimizing, self-healing
When plugged in, the MR16 automatically connects to the Meraki Enterprise Cloud Controller, downloads its configuration, and joins the appropriate network. It self optimizes, determining the ideal channel, transmit power, and client connection parameters. And it self heals, responding automatically to switch failures and other errors.
Low profile, environmentally friendly design
Despite its incredible power and feature set, the MR16 is the lowest profile 802.11n access point available - at just one inch thick, it blends seamlessly into any environment. In addition to looking great, the MR16 is earth friendly: we've eliminated excess packaging and documentation, and 90% of the access point materials are recyclable. A maximum power draw of only 10.5 watts and a cloud-hosted, multi-tenant controller mean that pollution, material utilization and your electric bill are kept to a minimum.
Technology:


Performance and Capacity
RF Optimization with Spectrum Analysis
Meraki Auto RF is a powerful yet completely automated RF optimization system that delivers hassle-free, high-performance Wi-Fi, even under challenging interference conditions. With Auto RF, every access point on the network continuously and automatically monitors its surroundings for any source of interference that could affect Wi-Fi performance. Interference metrics, including data from a powerful spectrum analyzer built into each Meraki AP, are uploaded to the Cloud Controller. Armed with real-time and historical data, the Cloud Controller continually assesses the health of the entire network, dynamically tuning wireless channel selection, transmit power, and client connection settings to automatically adapt to changing interference conditions. The result is consistent, reliable network performance.

Multi-Radio Mesh
Meraki features self configuring, self-optimizing, and self-healing mesh networking technologies. With advanced link selection metrics, multi-channel routing protocols, automatic failure detection, and per-flow multi-gateway support, Meraki APs support high performance mesh operation. Meraki's mesh extends coverage to hard-to-wire areas and provides resiliency to cable and switch failures.

Client Band Steering
Meraki automatically optimizes RF spectrum utilization with client band steering. 802.11n clients can operate on either 5 GHz or 2.4 GHz, with the former offering a cleaner, less utilized RF spectrum. Meraki's band steering technology automatically "steers" capable clients to 5 GHz, providing a higher-performance wireless connection with less interference and without sacrificing compatibility for legacy clients or imposing burdens on the end user.

High-Density Client Support
Meraki is designed for ultra-high density wireless environments. Meraki access points feature hardware-accelerated security, highly optimized packet processing, and extra memory and CPU resources to deliver consistent, reliable performance in dense, challenging environments.
Wireless Security
Network Access Control (NAC)
Meraki NAC provides powerful endpoint compliance assessment and enforcement capabilities without requiring any additional hardware, software, or licenses. Wireless clients are evaluated to determine whether they are protected by antivirus software. Compliant clients are then allowed onto the network while others sent to a quarantine and remediation area. Fine-grained access control policies are enforced via Meraki's integrated policy firewall, enabling identity-based access control policies for network resources. Unlike many NAC solutions, no LAN reconfiguration or integration is required.

Stateful Firewall with User and Group Policies
Meraki's wireless APs feature an integrated stateful policy firewall. This firewall enables powerful security features, including LAN isolation, which blocks clients from accessing internal LAN resources and prevents peer-to-peer traffic — critical for preventing the spread of viruses and worms. Meraki's firewall also provides fine-grained identity-based access control policies. Apply VLAN tags, access restrictions, and bandwidth limits on a per-user or per-group basis. Access control policies are created quickly and easily over the web, even in distributed environments or large-scale campus deployments. Meraki's policy firewall integrates seamlessly with Active Directory and RADIUS environments.

WPA2-Enterprise/802.1X, RADIUS Authentication
Meraki secures enterprise networks with standards-based WPA2 Enterprise security. Integrating with a RADIUS-compatible directory server such as Microsoft Active Directory or LDAP, Meraki enables scalable, fine-grained access control and encryption, enabling users to log in with their unique username and password. Meraki's RADIUS integration also provides advanced capabilities such as distributed authentication testing and group-based access control policies.

Guest Access with LAN Protection
Meraki builds in secure, Internet-only access for guests and visitors. Meraki's stateful firewall protects your network, blocking access to the LAN and preventing the spread of viruses and worms. Guest access can be customized with expiring logins, splash pages, bandwidth limits, adult content filtering and more.

Native Active Directory Integration
Meraki enables users to authenticate natively agains an Active Directory server, without an intermediate RADIUS server. This eliminates the need to configure Microsoft NPS, reducing complexity and speeding deployment. Native AD integration also eliminates RADIUS proxy hierarchies and reduces user error in multi-domain environments by eliminating the need for users to include a domain with their username.

Rogue AP Detection
Meraki provides rich out-of-the-box rogue AP detection, protecting the network from unauthorized wireless access points that may compromise network security. Meraki automatically detects rogue APs, identifying their IP address, VLAN, manufacturer, and model. Rogue detection includes network-wide visualization, email alerts, and reporting.

Teleworker VPN
Securely extend corporate network resources to teleworkers' wireless and wired clients with built-in VPN. Provide secure access to file shares, IP PBX systems, and internal applications. Connect VoIP phones from home offices, wirelessly or with an accessory Ethernet port. Enforce policies at the teleworker edge, and secure traffic with IPsec VPN technology. Meraki's VMWare-based virtual concentrator appliance eliminates the cost and complexity of hardware controllers or concentrators.
Application and User Control
Layer 7 Application QoS
Limit BitTorrent, gaming, and other recreational traffic while prioritizing business-critical apps, voice, and video with Meraki's integrated layer 7 application traffic shaping. Meraki wireless APs feature an integrated traffic analysis and QoS engine. Layer 7 fingerprinting technology goes beyond simple hostnames and ports, identifying evasive, encrypted and encapsulated applications including P2P. Prevent recreational applications from wasting bandwidth, throttle background traffic such as software updates, and improve the user experience of real-time apps. Cloud-based application signatures are always up to date, accurately identifying hundreds of applications automatically.

Client Location Services
Meraki's Client Location Services allow administrators to accurately locate wireless clients quickly and easily on a custom floor plan or map without requiring any additional hardware, software, or licenses. Client Location Services operates by intelligently triangulating client location using the signal strength of multiple access points that "see" the client. Location can be determined with as few as three access points, making Client Location Services equally suited to small branches and large campuses. Advanced triangulation techniques employ calibrated weighted averages and AP selection algorithms to ensure accuracy. Non-WiFi clients can also be tracked with Meraki Enterprise networks in conjunction with 3rd party asset tag tracking solutions from Meraki technology partners such as Ekahau Real-Time Location Services.

Splash Pages, Walled Garden
Meraki includes easy-to-deploy splash page support, wherein clients are shown a particular web page before clicking through (or authenticating) to access the network. Meraki includes pre-built splash pages that can be completely customized. Meraki also supports walled gardens, enabling unauthenticated users to access a set of resources before authenticating.

Layer 7 User Fingerprinting
Meraki's layer 7 traffic inspection engine gleans identifying information from clients as they use the network, detecting username, operating system, device type, etc. This data is logged in a secure cloud-hosted database, enabling network administrators to look up clients easily with a Google-like search interface. Simply search for "Joe's iPad" to find a particular device, which then can be analyzed, troubleshooted, and controlled.

Adult Content Filtering
Meraki's wireless LAN includes a DNS-based adult content filter. Enabled with a single click, this filter is ideal for blocking objectionable content on guest networks. Fine-grained CIPA-compliant content filtering is available via Meraki's MX-series router/firewall product line.

User and Group Bandwidth Controls
Easily set per-user bandwidth limits with a simple drag of a slider, preventing a single client from hogging the network. When used with Meraki's group policy firewall, bandwidth limits are automatically assigned based on a user's identity, enforcing different bandwidth limits for different classes of users.
Cloud-Based Management
Zero-Touch AP Provisioning
When first connected, Meraki APs automatically establish a secure connection to the Meraki Cloud Controller, from which they pull their configuration, optimize for RF performance, and begin to operate. Meraki APs can be deployed with zero manual configuration. Deploy large networks quickly and cost effectively, and extend coverage to remote branches without on-site IT.

Multi-Site Management
Meraki's Cloud Controller is ideal for distributed deployments. Centrally manage dozens, hundreds, and even thousands of branches, right out of the box. Rapidly deploy new sites without on-premise IT. Push configuration changes and policies across any number of branches with a single click. Purpose-built tools make managing distributed networks a breeze.

Seamless Firmware Updates
Firmware updates are delivered seamlessly from the cloud. When firmware updates are available, an administrator simply schedules an appropriate time for APs to download and install the new version. The APs automatically verify successful installation, and they simply fall back to their previous version if an error is found. This eliminates compatibility matrices, insecure and out of date firmware, and time consuming manual updates in both campus and distributed branch deployments.

Monitoring and Alerts
Meraki APs are automatically monitored 24x7 from the cloud. Should an issue arise - including upstream network failures like cut cables, switch failures, ISP outages, etc - the Cloud Controller will alert administrators of the issue, which can be diagnosed via the Cloud Controller's powerful remote tools.

Real-Time Remote Diagnostic Tools
Meraki provides real-time visibility and control via the web, from client usage and signal strength, to WAN health tests and spectrum analysis. Operating over Meraki's real-time tunnel to the cloud, remote tools provide responsive, feature rich network management with the simplicity of a web browser, eliminating ssh tunnels, serial cables, and airplane trips to troubleshoot remote branches.

Searchable Event Log
Meraki's event log captures fine-grained network events (802.11, WPA, 802.1X, DHCP, ARP, DNS, etc.) in a secure, cloud-based database. Indexed for rapid search, this event log provides powerful troubleshooting and analysis capabilities, even in remote sites or large-scale deployments.

Summary Reports
In addition to powering rich real-time diagnostics and search, Meraki assembles network usage into an insightful report. Identify application usage, problematic clients, and hotspots. Understand device trends, including iPad, smartphone, and other device usage. Demonstrate the success of the wireless investment and monitor change over time.

VPN Tunnel Establishment
When deployed in a teleworker VPN configuration, Meraki APs utilize the cloud to automatically discover the concentrator at HQ, to traverse firewalls and NATs, and to negotiate sessions. VPN sessions therefore require zero configuration — a true plug and play experience for end users and IT administrators alike.
Technical Specifications:


MR16 Specifications
Radio

One 802.11b/g/n and one 802.11a/n radio
Dual concurrent operation in 2.4 and 5 GHz bands
Max throughput rate 600 Mbit/s

Operating Bands

FCC (US)

2.412-2.484 GHz
5.150-5.250 GHz (UNII-1)
5.725 -5.825 GHz (UNII-3)

EU (Europe)

2.412-2.484 GHz
5.150-5.250 GHz (UNII-1)
5.250-5.350, 5.470-5.725 GHz (UNII-2)

Interfaces

1x 100/1000Base-T Ethernet (RJ45) with 48V DC 802.3af PoE
1x DC power connector (5mm x 2.1mm, center positive)

802.11n Capabilities

2 x 2 multiple input, multiple output (MIMO) with two spatial streams
Maximal ratio combining (MRC)
Beamforming
20 and 40 MHz channels
Packet aggregation
Cyclic shift diversity (CSD) support

Security

Integrated policy firewall (Identity Policy Manager)
Mobile device policies
24x7 WIPS (wireless intrusion prevention system)
Rogue AP containment
Guest isolation
Teleworker VPN with IPSec
PCI compliance reporting
WEP, WPA
WPA2-PSK
WPA2-Enterprise with 802.1X
TKIP and AES encryption
VLAN tagging (802.1q)

Quality of Service

Wireless Quality of Service (WMM/802.11e)
Advanced Power Save (U-APSD)
DSCP (802.1p)

Power

Power over Ethernet: 24 - 57 V (802.3af compatible)
12V DC
Power consumption: 10.5 W max
Power over Ethernet injector and DC adapter sold separately

Mounting

All standard mounting hardware included
Desktop
Wall mount
Ceiling tile rail (9/16, 15/16 or 1 ½" flush or recessed rails)
Assorted cable junction boxes

LED Indicators

4 signal strength
1 Ethernet connectivity
1 power/booting/firmware upgrade status

Physical Security

Security screw included
Kensington lock hard point
Anti-tamper cable bay
Concealed mount plate

Physical Dimensions

7.3" x 5.8" x 1.0" (185 mm x 147 mm x 25 mm) not including deskmount feet or mount plate
Weight: 17 oz (0.48 kg)

Environment

Operating temperature: 32 °F to 104 °F (0 °C to 40 °C)
Humidity: 5 to 95% non-condensing

Antenna

Integrated omni-directional antennas
Gain: 3 dBi @ 2.4 GHz, 5 dBi @ 5 GHz

Regulatory

FCC (US)
IC (Canada)
CE (Europe)
C-Tick (Australia/New Zealand)
UL2043 (Plenum rating)
RoHS

Certifications
Wi-Fi Alliance
Warranty
Lifetime hardware warranty with advanced replacement included
Note: Meraki Enterprise Cloud Controller license required.
Meraki MR16 has the following features:
MR16 Front and Side View
MR16 Rear cable access bay
LED Indicators and Run Dark Mode
Your MR16 is equipped with a series of LED lights on the front of the unit to convey information about system functionality and performance.
The MR16 may be operated in "Run Dark" mode for additional security and to reduce the visibility of the access point. In this mode, the LEDs will not be illuminated. This mode may be enabled through Meraki Dashboard.
RF Performance Table:
Maximum hardware capability shown above. Transmit power is configurable in increments of 1 dB and is automatically limited by the Meraki Cloud Controller to comply with local regulatory settings.
Operating Band
Operating Mode
Data Rate
TX Power (dBm)
RX Sensitivity
2.4 GHz
802.11b
1 Mb/s
23
-96
2 Mb/s
23
-94
5.5 Mb/s
22
-95
11 Mb/s
21
-92
2.4 GHz
802.11g
6 Mb/s
20
-95
9 Mb/s
26
-94
12 Mb/s
25
-93
18 Mb/s
25
-93
24 Mb/s
24
-90
36 Mb/s
24
-87
48 Mb/s
23
-83
54 Mb/s
21
-81
2.4 GHz
802.11n (HT20)
MCS0/8 HT20
22
-96
MCS1/9 HT20
22
-94
MCS2/10 HT20
21
-92
MCS3/11 HT20
21
-89
MCS4/12 HT20
21
-85
MCS5/13 HT20
21
-82
MCS6/14 HT20
20
-81
MCS7/15 HT20
19
-79
2.4 GHz
802.11n (HT40)
MCS0/8 HT40
21
-93
MCS1/9 HT40
21
-91
MCS2/10 HT40
21
-89
MCS3/11 HT40
21
-86
MCS4/12 HT40
21
-82
MCS5/13 HT40
21
-79
MCS6/14 HT40
19
-78
MCS7/15 HT40
18
-77
5 GHz
802.11g
6 Mb/s
24
-97
9 Mb/s
24
-96
12 Mb/s
23
-94
18 Mb/s
23
-92
24 Mb/s
22
-90
36 Mb/s
21
-87
48 Mb/s
20
-85
54 Mb/s
20
-83
5 GHz
802.11n (HT20)
MCS0/8 HT20
23
-98
MCS1/9 HT20
23
-96
MCS2/10 HT20
22
-93
MCS3/11 HT20
21
-90
MCS4/12 HT20
21
-84
MCS5/13 HT20
20
-82
MCS6/14 HT20
19
-80
MCS7/15 HT20
15
-79
5 GHz
802.11n (HT40)
MCS0/8 HT40
23
-94
MCS1/9 HT40
22
-93
MCS2/10 HT40
21
-91
MCS3/11 HT40
20
-88
MCS4/12 HT40
19
-85
MCS5/13 HT40
18
-81
MCS6/14 HT40
18
-78
MCS7/15 HT40
14
-76
Signal Coverage Pattern:


| | |
| --- | --- |
| Horizontal 2.4 GHz | Vertical 2.4 GHz |
| | |
| Horizontal 5.0 GHz | Vertical 5.0 GHz |
| | |
Compare 802.11n Access Points:


MR12
MR16
MR24
Usage
Value-oriented WLAN Small branch, teleworker, home office
Performance oriented WLAN Enterprise, campus, healthcare
Highest performance, highest capacity WLAN High speed, and high density campus and enterprise
Radio specification

1 x 802.11b/g/n radio
300 Mbit/s max rate
2x2 MIMO, beamforming

2 x 802.11b/g/n radios
600 Mbit/sec max rate
2x2 MIMO, beamforming

2 x 802.11b/g/n radios
900 Mbit/sec max rate
3x3 MIMO with 3 streams, beamforming

Interface
1 x Gigabit and 1 x 10/100 Mbps Ethernet ports
1 x Gigabit Ethernet port
1 x Gigabit Ethernet port
Power
802.3af Power over Ethernet DC power adaptor
802.3af Power over Ethernet DC power adaptor
802.3af Power over Ethernet DC power adaptor
Physical design

Low-profile industrial design
Wall and desktop mounting

Low-profile industrial design
Wall, desktop, and ceiling drop mounting (UL2043 Plenum rated)

Low-profile industrial design
Wall, desktop, and ceiling drop mounting (UL2043 Plenum rated)

Performance features

Priority Voice, Power Save (802.11e/WMM)
Enterprise-grade CPU
Hardware-accelerated encryption

Priority Voice, Power Save (802.11e/WMM)
Enterprise-grade CPU
Hardware-accelerated encryption
High-density support
Band steering

3-stream, 3x3 MIMO
Priority Voice, Power Save (802.11e/WMM)
Enterprise-grade CPU
Hardware-accelerated encryption
High-density support
Band steering

Mesh networking
Basic mesh
High performance multi-radio mesh
Very high performance multi-radio mesh
Documentation:

Download the Meraki MR16 Datasheet (PDF).
Meraki Product
Indoor Access Points
Meraki MR16 Dual-Radio 802.11n Access Point


*Please Note: Meraki Enterprise license purchase required for each AP.

MR16-HW
List Price: $649.00
Our Price: $584.00
Meraki MR16 5 Pack Bundle
*Please Note: Meraki Enterprise license purchase required for each AP.
- 5 x Dual-Radio 802.11n Access Point
*Get a FREE iPad 2 until 5/31/13! - Learn More
MR16-BDL-5PACK
Our Price: $3,245.00
Meraki Software
Enterprise Cloud Controller Licensing

Complete enterprise management feature set, including network access control, RADIUS authentication, multi-site management, guest access, diagnostics, monitoring, and traffic shaping. Includes enterprise-class phone support.

Meraki Enterprise Cloud Controller License, 1 Year, 1 AP
LIC-ENT-1YR
List Price: $150.00
Our Price: $142.00
Meraki Enterprise Cloud Controller License, 3 Year, 1 AP
LIC-ENT-3YR
List Price: $300.00
Our Price: $285.00
Meraki Enterprise Cloud Controller License, 5 Year, 1 AP
LIC-ENT-5YR
List Price: $450.00
Our Price: $427.00