The Latest Cisco Meraki News

Product and Solution Information, Press Releases, Announcements
Simplifying Sensors with Cisco Meraki
October 14, 2020 By BlueAlly
---

Meraki announces launch of MT sensors for monitoring critical IT infrastructure.
Data has always been an important tool for businesses, and the ways in which data is gathered, analyzed, and used is rapidly transforming in an increasingly remote environment. Businesses are being challenged to adapt quickly due to the ongoing pandemic and are turning to data to help improve efficiency across the organization. As more workforces are becoming distributed and remote, having the ability to automate data collection is essential.
Businesses rely on their networks to power critical functions and keep operations running smoothly. Poor environmental conditions, such as extreme temperatures or humidity, can lead to premature equipment failure and network outages, and result in severe business disruptions and costly downtime. The use of sensors can provide insight into current environmental conditions, helping to ensure critical infrastructure continues to function, without someone having to be physically on-site.
Today, we're excited to announce the newest Meraki product line, Meraki MT. Meraki MT is a family of environmental sensors that provide remote visibility and monitoring to help protect assets and facilities 24/7.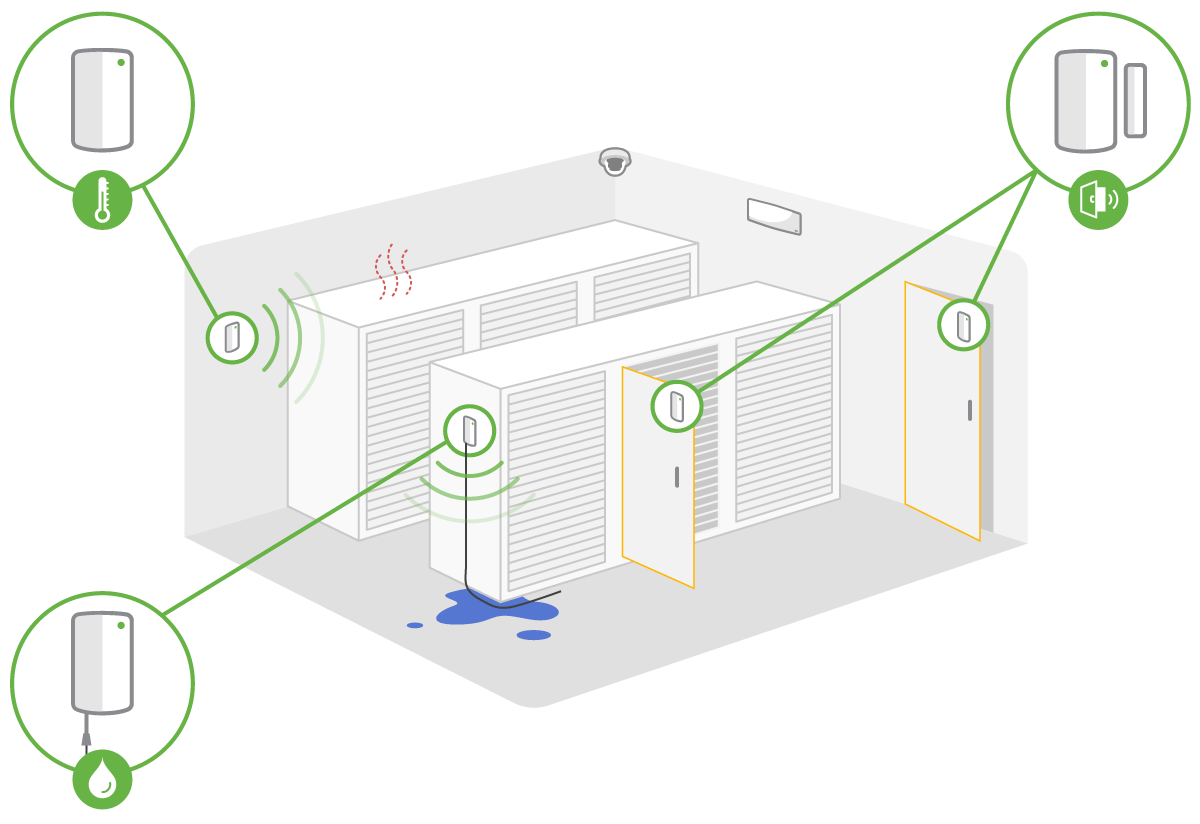 Meraki MT sensors monitor temperature and humidity data, leaks, and intrusion (open/close status of doors, cabinets, and more) in real time, so you can keep tabs on critical infrastructure or sensitive inventory at all times.
Cutting out the complexity with Meraki MT
IoT sensors exist in the market today, but they are complex and require dedicated gateways and on-premise servers for management, leading to long deployment times. The typical IoT sensor does not easily integrate into your network and doesn't scale well. Meraki MT sensors cut the complexity of traditional sensor systems by eliminating the need for a separate gateway and management software.

Meraki MT sensors use a network's existing Meraki MR access points or MV smart cameras as gateways, automatically connecting and speeding up deployment timeframes. Powered by the Meraki platform, the MT sensors are fully cloud-managed. Real-time visibility through the Meraki cloud dashboard and mobile app, along with flexible alerting options, keep you up-to-date wherever you are.
Improving efficiency and safety, reducing costs and downtime
The ability to have constant visibility into your site and network has a positive impact on your overall bottom line. 86% of businesses say that the cost of network downtime is more than $300,000 per hour; and nearly 35% say it is more than $1 million per hour.1
Organizations can also use Meraki MT sensors to:
Improve employee safety and efficiencies by preventing unnecessary site visits and reducing employee movement throughout facilities.
Reduce OpEx through automating data collection and lower CapEx by avoiding premature equipment failure.
Improve customer satisfaction by reducing unplanned network outages and operational downtime.
Cisco's IoT offerings
Meraki MT provides customers with a simple, data-powered solution to monitor indoor environments and IT network closets. OT environments have similar challenges and concerns when it comes to operational expenses and site management. Cisco IoT's new Industrial Asset Vision provides a solution for addressing these requirements in outdoor and indoor industrial environments.
If the past several months have demonstrated one thing, it's that businesses need to remain agile, become safer, and find ways to be more resilient. We at Cisco are committed to creating work environments that can be remotely monitored to increase efficiencies and improve employee safety.