Cisco Meraki MR30H

802.11ac Wave 2 wireless with integrated gigabit switch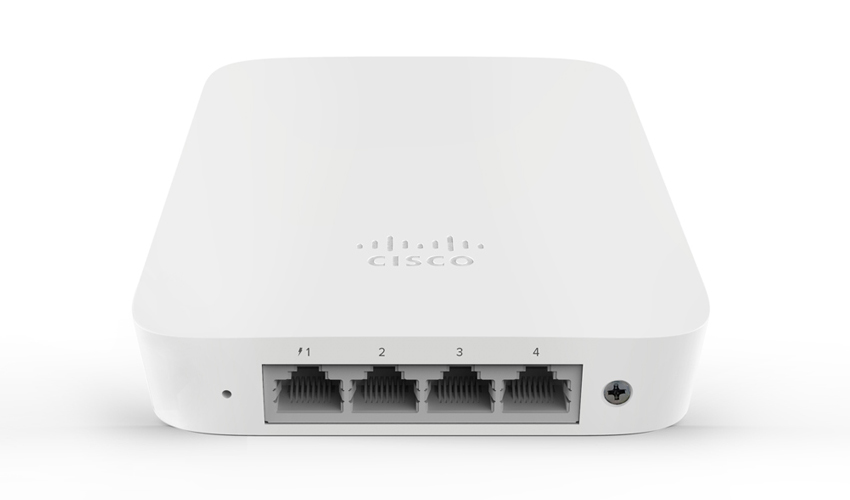 Sorry, this product is no longer available, and is replaced by the new Cisco Meraki MR36H or please contact us for a replacement.
Click here to jump to more pricing!
Overview:
MR30H
Dual-band, 802.11ac Wave 2 2x2:2 Wall Switch Access Point with dedicated security and RF management radio as well as an integrated Bluetooth Low Energy beacon and scanning radio
Robust Feature Set for Multi-dwelling Wireless
The Cisco Meraki MR30H is a quad-radio, cloud-managed 2x2:2 802.11ac Wave 2 wall switch access point with MU-MIMO support. Designed for next-generation deployments in hotel rooms, university residences, and other multi-dwelling units, the MR30H provides performance, enterprise-grade security, and simple management.
The MR30H provides a maximum 1.3 Gbps* aggregate frame rate with concurrent 2.4 GHz and 5 GHz radios. A dedicated third radio provides real-time WIDS/WIPS with automated RF optimization. Four ethernet ports on the wall switch allow easy connectivity of external wired devices. An integrated Bluetooth Low Energy (BLE) radio delivers beacon and scanning capabilities.
The combination of cloud management, 802.11ac Wave 2, full-time RF environment scanning, a wall switch, and integrated Bluetooth technology delivers the throughput, reliability, convenience and flexibility required by demanding multi-dwelling use cases.
MR30H and Meraki Cloud Management: A Powerful Combination
The MR30H is managed through the Meraki cloud, with an intuitive browser-based interface that enables rapid deployment without training or certifications. Since the MR30H is self-configuring and managed over the web, it can even be deployed at a remote location without on-site IT staff.
The MR30H is monitored 24x7 via the Meraki cloud, which delivers real-time alerts if the network encounters problems. Remote diagnostics tools enable real-time troubleshooting over the web, meaning multi-site, distributed networks can be managed remotely.
The MR30H's firmware is always kept up to date from the cloud. New features, bug fixes, and enhancements are delivered seamlessly over the web, meaning no manual software updates to download or missing security patches to worry about.
MR30H Highlights
Ideal use cases
In-room hotel or dormitory deployments
IP-enabled devices in the same room
Hardware features
Integrated 4 port gigabit switch
3 radios: 2.4 GHz, 5 GHz, and dual-band WIDS/WIPS
Integrated Bluetooth BLE radio
2x2 MU-MIMO 802.11ac Wave 2
Up to 1.3 Gbps aggregate dual-band frame rate
802.3af PoE compatible
Cloud management
Network-wide visibility and control
Self-provisioning for rapid deployment
Automatic reporting
Seamless firmware updates
Enterprise security
802.1X integration
Air Marshal: real-time WIPS with forensics
Stateful Layer 3-7 firewall
Identity-based group policies
Built-in antivirus scan (NAC)
Guest access
1-click secure guest access
Guest isolation firewall
Customizable splash pages
RF optimization
Dual-concurrent, 2-stream MIMO radios
Radios optimized for rate-vs-range performance
Third radio dedicated to security and RF management
Built-in real-time RF spectrum view
Cloud-based automatic RF optimization
Layer 7 traffic shaping
Classify hundreds of applications
Create per-application bandwidth limits
Prioritize productivity apps
Restrict recreational traffic
CMX location analytics
Measure visitor capture rate, visit length, and repeat visit rate
Measure visitor trends over time and compare performance across locations
Enable location services through integrated iBeacon functionality
Pricing Notes:
Pricing and product availability subject to change without notice.
Cisco Meraki Products
Enterprise Cloud Controller Licensing and Renewal Licensing
Complete enterprise management feature set, including network access control, RADIUS authentication, multi-site management, guest access, diagnostics, monitoring, and traffic shaping. Includes enterprise-class phone support.
Cisco Meraki Enterprise Cloud Controller License, 1 Year
#LIC-ENT-1YR
List Price:
$200.70
Our Price: $133.87
Cisco Meraki Enterprise Cloud Controller License, 3 Year
#LIC-ENT-3YR
List Price:
$451.58
Our Price: $301.20
Cisco Meraki Enterprise Cloud Controller License, 5 Year
#LIC-ENT-5YR
List Price:
$752.63
Our Price: $502.00
Cisco Meraki Enterprise Cloud Controller License, 7 Year
#LIC-ENT-7YR
List Price:
$1,053.68
Our Price: $702.80
Cisco Meraki Enterprise Cloud Controller License, 10 Year
#LIC-ENT-10YR
List Price:
$1,505.25
Our Price: $1,004.00
Adavnce Licenses
Cisco Meraki Advance License, 1 Year
#LIC-MR-ADV-1Y
List Price:
$401.40
Our Price: $267.73
Cisco Meraki Advance License, 3 Year
#LIC-MR-ADV-3Y
List Price:
$903.15
Our Price: $602.40
Cisco Meraki Advance License, 5 Year
#LIC-MR-ADV-5Y
List Price:
$1,505.25
Our Price: $1,004.00
Adavnced License Upgrade & Support
Meraki MR Advanced License Upgrade and Support, 1Year
#LIC-MR-UPGR-1Y
List Price:
$200.70
Our Price: $133.87
Meraki MR Advanced License Upgrade and Support, 3Year
#LIC-MR-UPGR-3Y
List Price:
$451.58
Our Price: $301.20
Meraki MR Advanced License Upgrade and Support, 5Year
#LIC-MR-UPGR-5Y
List Price:
$752.63
Our Price: $502.00
Cisco Meraki Accessories
Cisco Meraki AC Adapter for MR Wireless Access Points (US Plug)
#MA-PWR-30W-US
List Price:
$42.83
Our Price: $28.57
Meraki Replacement Wall plate Mounting Kit for MR30H
#MA-MNT-MR-H1A
List Price:
$57.96
Our Price: $38.66
Cisco Meraki Surface Mounting Kit for MR30H
#MA-MNT-MR-H2
List Price:
$57.96
Our Price: $38.66
Meraki Wired Guest Port Cover - Mounting Kit for MR30H
#MA-MNT-MR-H3A
List Price:
$57.96
Our Price: $38.66