Cisco Meraki Go GX20 Security Gateway

Firewall & Router Combo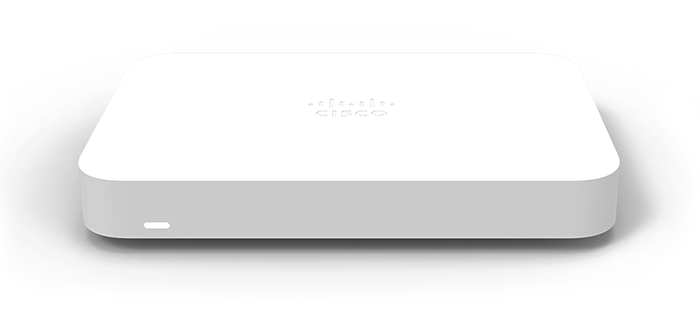 Cisco Meraki Products
Security Gateway
Cisco Meraki Go GX20 Security Gateway (US Plug)
All updates and tech support included! No additional support license purchase needed!
#GX20-HW-US
Our Price: $154.99
Click here to jump to more pricing! Optional security subscription available!
Overview:
Get Your Business Going
The Cisco Meraki Go Security Gateway is powerful router and firewall that keep devices on the network private and secure, while providing control over network usage limits and website access.
Security Gateway
Router and Firewall with automatic updates to keep your business secure, simple to set up, and provide control over usage limits.
Meraki Go Security
Firewall & Router combo
Block websites, prioritize bandwidth & set usage limits across the entire network
PoE port & 3 additional LAN ports
Cloud managed with the Meraki Go mobile app
All updates & tech support included
Meraki Go Solutions:
Easy networks for small businesses
Meraki Go is designed with small businesses in mind. The cloud-based networking solution provides the power of enterprise networking to the ever-changing needs of small businesses, giving owners and office managers control over their internet and WiFi.
Meraki Go access points, security gateway, and network switches can be installed in minutes with minimal time, resources, and expertise. Managed through the intuitive Meraki Go Mobile App, it's easy to create a complete network that's enjoyable to use, shows what's happening on the network, and places control back into businesses' hands.
With automatic firmware updates, owners don't have to worry about critical business data being exposed to hackers or ransomware attacks. And, by customizing network settings, businesses can create unique experiences, immediately adding value as they streamline operations and increase user satisfaction.
Put the focus back on growing your business, increasing productivity, and engaging more with your customers.
This is your business network on your terms.
Key Features
Remote management of cloud-based products via an intuitive mobile app
Quick, guided installation with no technical knowledge needed
Separate business and guest networks on the same device
Engage guests with a custom branded landing page in seconds
Adjust traffic limits and block websites per user or network
Prioritize critical business applications for increased efficiency
Make informed decisions around staffing, inventory, offers, etc. by leveraging insights into guest foot traffic, dwell time, and loyalty
Powerful router and firewall ensure business security
Remotely view and enable/disable switch ports
Leverage in-app support for any questions
Benefits of the Cloud
Automatic firmware updates
Mobile app to manage every aspect of the network
Guided setup of Meraki Go products and features
Access and manage Meraki Go devices from anywhere
Built in remote, live tools for troubleshooting on the go
Alerts for connectivity problems
Intuitive management tools for quick changes, as needed
Reduced operating costs
Specifications:

Performance
Firewall Throughput - 250 Mbp/s
Recommended for 50 clients of fewer
Network and Security Services
Stateful firewall
Port Forwarding
DHCP services
DNS based security powered by Cisco Umbrella (additional subscription required)
Power
50W (54V / 0.92 A) Power Supply Included
Physical Dimensions
6.83" x 4.41" x 1.0.4" (173.4mm x 112mm x 26.3mm), not including deskmount feet or mount plate
In the Box
GX20-HW: Meraki Go Security Gateway
Wall mount and screw kit
Quick start guide
PSU and ethernet cable
Interfaces
WAN Interface: 1x 10/100/1000 BASE-T Ethernet (RJ45)
LAN interfaces: 4x 10/100/1000 BASE-T Ethernet (RJ45)
PoE: 1x 802.3af enabled port (15.5W)
Environment
Operating temperature: 32 °F to 104 °F (0 °C to 40 °C)
Humidity: 5 to 95% non-condensing
Kensington lock hard point
LED Indicators
2 Ethernet status
1 power/booting/firmware upgrade status
Warranty
Pricing Notes:
Pricing and product availability subject to change without notice.
Cisco Meraki Products
Security Gateway
Cisco Meraki Go GX20 Security Gateway (US Plug)
All updates and tech support included! No additional support license purchase needed!
#GX20-HW-US
Our Price: $154.99
Meraki Go Security Subscriptions
Cisco Meraki Go Security Subscription License and Support - 1 Year
#LIC-GX-UMB-1Y
Our Price: $108.38
Cisco Meraki Go Security Subscription License and Support - 3 Years
#LIC-GX-UMB-3Y
Our Price: $325.13
Cisco Meraki Go Security Subscription License and Support - 5 Years
#LIC-GX-UMB-5Y
Our Price: $541.89
Accessories
Meraki GO T-Rail Ceiling Mount
#GA-MNT-CLG-1
Our Price: $22.61
Rack Mount Kit for Cisco Meraki Go GX20
#RM-CI-T12
List Price:
$139.00
Our Price: $134.00