Cisco Meraki Wireless

Featured Technologies
RF Optimization:

Cisco Meraki's powerful, automated RF optimization system delivers high performance in high density environments and under challenging interference conditions.
Dedicated radio for continuous monitoring
Cisco Meraki access points feature a third radio dedicated to continuously and automatically monitoring surroundings to maximize Wi-Fi performance. By measuring channel utilization, signal strength, throughput, signals from non-Meraki APs, and non-WiFi interference, Cisco Meraki APs automatically optimize WiFi performance of individual APs and maximize system-wide performance.
Interference detection
By measuring utilization from neighboring APs, detecting WiFi signals from non-Meraki APs, and identifying non-WiFi interference, Cisco Meraki APs continuously stay on top of changing and challenging conditions. Tools such as real-time spectrum analysis and live channel utilization deliver immediate information on the RF environment at any part of the network. Even in dynamic environments, Cisco Meraki networks automatically detect and adapt to interference from non-802.11 sources.
Adaptive configuration for optimal performance
Real-time and historical metrics ensure maximum system-wide performance. Wireless channels, AP output power, and client connection settings are automatically adapted to changing performance and interference conditions, eliminating the need for tedious manual adjustment of dozens of independent parameters.
Application QoS:

Cisco Meraki's integrated Layer 7 fingerprinting and application QoS automatically identifies and controls hundreds of applications, from business apps to BitTorrent and YouTube.
Deep packet inspection
A modular and flexible packet processing engine delivers consistent, high-performance application traffic shaping within product families and across product lines. This custom-built Layer 7 technology uses a variety of techniques to identify and control hundreds of applications.
Going far beyond IP addresses, hostnames, and ports, Layer 7 deep packet inspection uses heuristics-based identification to classify traffic based on application, even identifying evasive, dynamic, and encapsulated apps. High performance hardware enables inspection, classification, and traffic shaping at line-rate inside Cisco Meraki devices.
Traffic shaping policies
Gain control over network traffic by prioritizing critical apps like VoIP, while throttling or blocking high bandwidth consumers like Netflix and BitTorrent. Application and device fingerprinting with Google-like search allows administrators to easily identify the highest bandwidth consuming apps and users, and control them via application traffic shaping polices. Fine-grained control allows users' application bandwidth to be throttled based on group membership.
Cloud-based application signatures
Cisco Meraki's cloud-based application signature database is constantly updated to identify new and changing applications, without requiring the administrator to download and install software updates. The Cisco Meraki cloud-based architecture continually learns from Cisco Meraki's thousands of customer networks and millions of users, increasing the accuracy and precision of application fingerprints.
Air Marshal / WIPS:

Air Marshal is Cisco Meraki's wireless intrusion prevention (WIPS) solution. Integrated into every Cisco Meraki access point and centrally managed from the cloud, Air Marshal detects and neutralizes wireless threats, delivering state of the art protection to the most security conscious distributed networks.
Dedicated security radio
Cisco Meraki APs feature a dedicated security radio, powering Air Marshal and enabling round-the-clock protection without interrupting client traffic. This third radio is dual-band, providing spectrum intelligence across 2.4 GHz and 5 GHz frequencies and full-time security protection from network vulnerabilities.
Air Marshal: real-time detection with customizable alarms
APs scan their environment in real-time and take preemptive action based on intuitive user-defined preferences. Attack profiles are organized into categories such as rogue SSIDs, AP spoofs, and packet floods, facilitating rapid classification and response by a network administrator.
Administrators may be immediately notified of potential wireless threats with highly customizable real time alerts. Alerts may be enabled for a variety of threat categories, and are delivered via email or SMS.
Intuitive and flexible remediation
Once identified, rogue APs can be contained through built-in techniques that deauthenticate clients and render the rogue AP ineffective. Flexible remediation policies makes it ideal for security-conscious distributed networks, and Air Marshal can also auto-contain APs spoofing your network's SSID, ensuring your employees and customers are not lured into connecting to a malicious rogue device.
CMX Location Analytics:

CMX, Cisco's location analytics and engagement solution, displays real-time location statistics to improve customer engagement and loyalty across sites. Data collected by intelligent Meraki APs is synced with the Meraki cloud, automatically reported in the dashboard, and exported to third-party applications via the CMX location API.
Intelligent APs collect probe statistics
Meraki access points collect information from nearby smart devices, enabling location-based analytics. WiFi probe request details like access point MAC, probing client MAC, time stamps, and RSSI information are gathered in real time and then processed by the Meraki cloud. MAC addresses identify returning visitors, probe requests establish visit duration, and RSSI information are used to distinguish passers-by from visitors.
Location-based insights drive revenue
The Meraki dashboard presents location-based performance indicators including capture rate, median visit length, repeat visit rate, total number of visitors, and total visits for a given site. View simplified or detailed graphs of captured data — sliced by day, week, or month — for a user-specified date range. Use the insights gleaned from CMX data to better engage customers, increase retail store traffic, and drive revenue.
Location API gives unlimited flexibility
The CMX location API uses real-time HTTPS POSTs of JSON objects to deliver raw data to customers' analytics applications, making the collection and manipulation of location data flexible. By integrating Meraki's location API with back-end CRM, retailers can drive in-store customer engagement with notifications to staff or the delivery of targeted customer offers.
CMX API:

The Cisco Meraki CMX API uses intelligent access points to deliver real-time location analytics data directly to customers, allowing integration with 3rd-party retail analytics applications, CRM, and custom-built applications.
Easy to set up and use
Configuring the API is simple:
Go to Configure > Network-wide settings in the Meraki dashboard and enable the API
Enter your validator and secret into your systems
Point the dashboard to your systems
Meraki servers then perform an HTTP GET to the listed URL, and check the validator returned by that system. If the validator is correct, Meraki servers will begin posting location events to the system URL, using the secret to confirm to the customer that the HTTP POST came from Cisco Meraki.
Flexible functionality
The API delivers easy-to-digest JSON data, captured in real-time, to 3rd party or custom-built applications. This gives customers with unique requirements a high degree of flexibility.
The data includes WiFi probe request details from individual clients such as access point MAC, client MAC, time stamps, and RSSI data: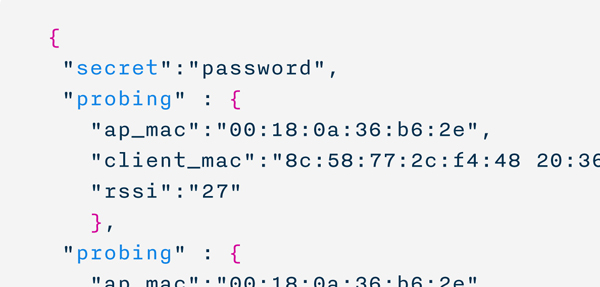 Because the CMX API delivers real-time data directly, it is a highly flexible tool with many potential use cases. For example, customers could use the API to build applications that augment existing customer records, allowing retailers to determine who their top customers are and how often they return to a given location. By integrating the API with back-end CRM, retailers can drive in-store customer engagement with notifications to staff or the delivery of targeted customer offers.
In the enterprise context, CMX data can be used to inform policy decisions about WiFi availability, physical security, and energy savings.
Meraki integrated privacy protection mechanisms into CMX and the API.
Partnerships with retail analytics vendors
Cisco Meraki works with best-in-class retail analytics vendors, via the CMX API, enabling raw data to be plugged into and processed by retail analytics applications. Partners include:
Euclid
WalkBase
Nomi
Swarm
Nearbuy
Boldstreet Wireless
Mesh Routing:

Mesh networking, included in every Cisco Meraki AP, extends coverage to hard to wire areas and creates a self-healing network that is resilient to cable and switch failures. Cisco Meraki pioneered high performance mesh routing, with technologies such as multi-radio routing and per-flow analysis that optimize Cisco Meraki's mesh for performance and reliability.
Auto-configuring mesh
By using Cisco Meraki mesh, organizations can extend the wireless network to areas that are difficult or expensive to connect via Ethernet cabling. Meshed APs self-configure and establish a high-performance, robust, and resilient network automatically, without any need for manual intervention or provisioning.
Multi-channel routing protocols
Cisco Meraki's advanced proprietary routing protocols and algorithms continuously evaluate link performance by measuring a variety of factors, including signal strength, throughput, link cost, interference, and frame reception rates.
Wireless APs take measurements individually and work together with neighboring APs to optimize overall capacity and client throughput. APs route traffic over different channels as needed to minimize per-hop performance degradation and maximize client performance. Even distant areas can be connected via point-to-point mesh links by using directional antennas to link APs up to 12 miles apart.
Self-healing networking with per-flow optimization
Self-healing technology in Cisco Meraki APs allows them to automatically reconfigure and use mesh links in the event of a wired Ethernet or switch failure, forwarding traffic to other APs in the network that have Internet gateway connectivity. APs establish mesh networks automatically, even when connected to the wired LAN, making the optimized mesh link immediately available in the case of a wired LAN failure event. APs maintain a per-flow track of traffic, so clients already associated to an AP continue to have connectivity and experience no interruption in service.
Cisco Meraki mesh technologies, including automatic link optimization, adaptive capacity management, and failure resilience enable networks to continue operating despite failures or configuration changes in the rest of the network, without the need for manual configuration or optimization.
Bonjour Gateway:

Integrating Bonjour devices and services into education and enterprise networks needn't be complex. Cisco Meraki natively integrates Bonjour support and selectively bridge services across subnets, intelligently enabling large-scale deployments without overloading the network.
Integrated Bonjour support
Cisco Meraki Security Appliances and wireless LANs include native support for Bonjour devices and traffic. There's no need for a separate appliance just to manage Bonjour services — simply turn it on via the Meraki dashboard.
Scalable service deployment
Bonjour deployments can quickly get out of control if not scaled properly. Rather than flooding the network with Bonjour traffic from all devices and subnets, Cisco Meraki's Bonjour Gateway selectively bridges Bonjour traffic — such as AirPlay, AirPrint, and Apple Filing Protocol (AFP) — to the subnets of choice.
Intuitive configuration
There's no need to hunt for VLAN and subnet configurations to enable Bonjour support. Cisco Meraki intelligently recognizes available subnets to bridge from and subnets on which to enable Bonjour support, letting administrators pick and choose devices and subnets on which to support Bonjour.
Seamless Mobility:

The ability to roam seamlessly within a campus environment is fundamental to today's collaborative spaces. Wireless users expect to be able to use applications on-the-go, including latency-sensitive apps like voice and video.
Seamless roaming
Voice over WLAN remains a particularly demanding application, but today it is joined by an ever-increasing array of tablet and smartphone apps, driven further by the BYOD trend. Roaming capability is no longer a luxury. Cisco Meraki APs support seamless roaming, operating in gateway mode or as part of a wireless mesh. By incorporating advanced roaming functionality, clients can move seamlessly within the network, and even continue to roam in the event connectivity to the cloud is interrupted.
Fast roaming for voice and high-speed mobility
Fast roaming is essential for latency-sensitive apps, but one challenge can be the requirement for the user to re-enter login credentials if WPA2/802.11i security is deployed, because the client must complete a fresh association to every new AP. This process takes enough time to be a potential threat to the stability of real-time data flows. Cisco Meraki APs employ PMK (pairwise master key) caching and opportunistic key caching (OKC), enabling the reuse of security credentials among APs sharing a common SSID, and thereby avoiding the need for a full authentication via each new AP. Since APs communicate securely, they share PMK IDs, eliminating the need for additional components that perform key caching.
Inter-subnet mobility
As an organization grows, so too does the need to implement network segments to maintain performance for all clients. Cisco Meraki APs support Layer 3 roaming, leveraging the power of the Cisco Meraki MX Security Appliance to act as a mobility concentrator. Clients can roam freely between subnets, without interrupting even the most demanding of applications. Using the Cisco Meraki dashboard, setup is straightforward, and unlike complex alternatives on the market, enabling Layer 3 roaming for large wireless environments is quickly done in a few simple steps.
Carrier Offload:

Cisco Meraki's unique cloud managed networking platform and Hotspot 2.0-ready access points are designed for scalability, reliability, and manageability, simplifying large carrier-grade deployments.
Rapid, scalable deployment
APs self-configure via the cloud for turnkey site installation. Manage deployments and set granular user, device and application policies using a feature-rich network management system. The flexibility and scalability of the Cisco Meraki cloud-based architecture eliminates investment in complex multi-tiered hardware and software systems.
Seamless integration
The Cisco Meraki cloud architecture interoperates with all leading gateway vendors, seamlessly integrating with your core OSS/BSS systems and enabling fast time to market with high-quality, easily managed solutions for both WiFi offloading and managed services.
Cloud architecture with carrier-grade SLA
Geographically redundant data centers and seamless failover provide operators with a 99.99% carrier-grade SLA. Firmware updates are delivered seamlessly via the cloud, keeping large operator deployments up to date with the latest features and eliminating end-of-life and controller-interoperability issues.
Bluetooth Low Energy:

Meraki MR32 and MR72 access points include high performance 802.11ac WiFi, a dedicated security radio, and something extra: Both APs incorporate a dedicated Bluetooth radio and antenna, extending the power of location awareness and returning meaningful value to customers.
Universal support, enabling real world applications
Bluetooth Low Energy (BLE) was incorporated into the Bluetooth 4.0 specification in 2010 and experienced rapid uptake, including all the major operating systems, many of the smartphones and tablets we use today, plus a new breed of devices like fitness bands and simple RF tags. BLE excels at sharing small packets of data, referred to as attributes, over a low energy link, and is frequently used for health monitoring, proximity detection, asset tracking, and in-store navigation.
Dedicated, efficient hardware with simple management
The MR32 and MR72 access points contain an integral Bluetooth radio and dedicated antenna, providing superior coverage and convenience to support these applications. In other words, no other hardware is required, it's all built-in.
BLE, as its name suggests, is designed to sip power, enabling some dedicated beacons to run for years on a single battery, opening up new practical applications at low cost. Bluetooth is also an efficient standard when it comes to radio interference. Operating in the 2.4 GHz ISM band, it uses frequency hopping technology to circumvent interference problems often seen in this band. Cell sizes can be tuned to the application requirement, with potential range comparable to 2.4 GHz WiFi, even taking into account the low power requirements of the standard.
Everything is managed through the Meraki dashboard, with a monitor view for identifying Bluetooth devices, their connectivity history, and tagging for simple organization and search.
Putting Beacons to work
The MR32 and MR72 APs enable customers to begin developing practical applications for BLE devices. These can be broadly categorized into 'push' applications, where the AP informs an aware device that it is in a certain location, or 'pull' applications, where the AP listens for beacons and uses this information to assist with asset tracking and control through the dashboard. Location analytics based on BLE generally work on an opt-in basis, with the consumer enticed via an app which leverages location for mutual benefit.