Cisco Meraki MR74

Dual-band 2x2 MIMO 802.11ac Wave 2 access point with separate radios dedicated to security, RF Management, and Bluetooth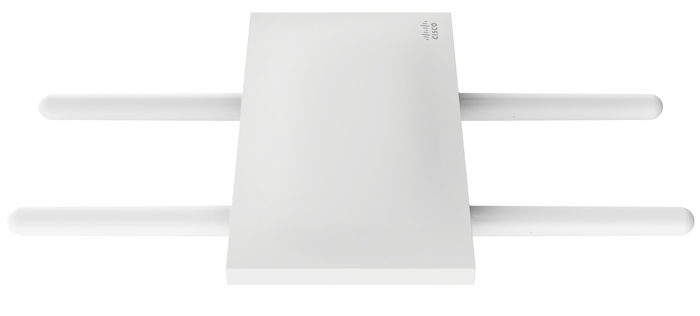 Sorry, this product is no longer available, and is replaced by the new Cisco Meraki MR76 or please contact us for a replacement.
Click here to jump to more pricing!
Overview:
General purpose industrial / outdoor 802.11ac Wave 2 wireless
The Cisco Meraki MR74 is a four-radio, cloud-managed 2x2 MIMO 802.11ac Wave 2 access point. Designed for general purpose, next-generation deployments in harsh outdoor locations and industrial indoor conditions, the MR74 offers performance, enterprise-grade security, and intuitive management.
The MR74 delivers a maximum 1.3 Gbps* aggregate frame rate with concurrent 2.4 GHz and 5 GHz radios. A dedicated third radio provides real-time WIDS/WIPS with automated RF optimization. A fourth radio delivers seamless Bluetooth Low Energy (BLE) scanning and Beaconing.
The combination of cloud management, 802.11ac, full-time RF environment scanning, and an integrated Bluetooth Low Energy radio delivers the high throughput, reliability, and flexibility required by the most demanding business applications like voice and high-definition streaming video, even in the most harsh outdoor environments.
MR74 and Meraki Cloud Management: A Powerful Combination
The MR74 is managed through the Meraki cloud, an intuitive browser-based interface that enables rapid deployment across multiple sites without the need for time-consuming training or costly certifications. Since the MR74 is self-configuring and managed over the web, it can be deployed at a remote location in a matter of minutes, even without on-site IT staff.
24x7 monitoring via the Meraki cloud delivers real-time alerts if the network encounters problems. Remote diagnostics tools enable immediate troubleshooting so that distributed networks can be managed with a minimum of hassle.
The MR74's firmware is always kept up to date from the cloud. New features, bug fixes, and enhancements are delivered seamlessly over the web, meaning no manual software updates to download or missing security patches to worry about.
Product Highlights
Ideal for outdoor and industrial indoor environments
2x2:2 802.11ac, 1.3 Gbps aggregate dual-band data rate
24x7 real-time WIPS/WIDS and spectrum analytics via dedicated third radio
Integrated Bluetooth Low Energy (BLE) Beaconing and scanning radio
Forms point-to-point links with optional sector antennas
Self-healing, zero-configuration mesh
Integrated enterprise security and guest access
Application-aware traffic shaping
Self-configuring, plug-and-play deployment
Recommended Use Cases
Outdoor coverage for corporate campuses, educational institutions, metro Wi-Fi, and parks
Weather-resistant Wi-Fi delivery in open spaces
Monetizeable hotspots with built-in splash pages
Indoor coverage for industrial areas (e.g., warehouses, manufacturing facilities)
Reliable coverage for scanner guns,security cameras, and POS devices
High speed-access for iPads, tablets and laptops
Zero-touch point-to-point links
Build a long-distance bridge between two networks
Two MR74s can establish a long range link using high-gain antennas
*Refers to maximum over-the-air data frame rate capability of the radio chipset, and may exceed data rates allowed by IEEE Std 802.11ac-compliant operation.
Pricing Notes:
Pricing and product availability subject to change without notice.
*Rate is per month, per device with a 36-month term agreement
Setup fees for Meraki as a Service may apply
Cisco Meraki Products
Enterprise Cloud Controller Licensing and Renewal Licensing
Complete enterprise management feature set, including network access control, RADIUS authentication, multi-site management, guest access, diagnostics, monitoring, and traffic shaping. Includes enterprise-class phone support.
Cisco Meraki Enterprise Cloud Controller License, 1 Year
#LIC-ENT-1YR
List Price:
$200.70
Our Price: $133.87
Cisco Meraki Enterprise Cloud Controller License, 3 Year
#LIC-ENT-3YR
List Price:
$451.58
Our Price: $301.20
Cisco Meraki Enterprise Cloud Controller License, 5 Year
#LIC-ENT-5YR
List Price:
$752.63
Our Price: $502.00
Cisco Meraki Enterprise Cloud Controller License, 7 Year
#LIC-ENT-7YR
List Price:
$1,053.68
Our Price: $702.80
Cisco Meraki Enterprise Cloud Controller License, 10 Year
#LIC-ENT-10YR
List Price:
$1,505.25
Our Price: $1,004.00
Cisco Meraki Accessories
Cisco Meraki Dual-Band Omni Antennas (4/7 dBi)
#MA-ANT-20
List Price:
$235.39
Our Price: $157.01
Cisco Meraki 5 GHz Sector Antenna, 13 dBi
#MA-ANT-21
List Price:
$412.82
Our Price: $275.35
Cisco Meraki 2.4 GHz Sector Antenna, 11 dBi
#MA-ANT-23
List Price:
$412.82
Our Price: $275.35
Cisco Meraki Dual-Band Patch Antenna (8/6.5 dBi Gain)
#MA-ANT-25
List Price:
$412.82
Our Price: $275.35
Cisco Meraki AC Adapter for MR Wireless Access Points (US Plug)
#MA-PWR-30W-US
List Price:
$42.83
Our Price: $28.57